Welcome to Dave's Magic Gas Lamps Page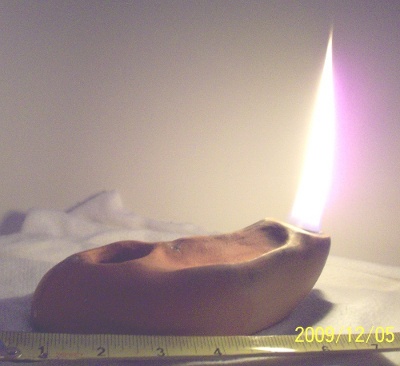 This Picture says it all.
I have created a very special kind of clay gas lamp.
Watch the lamp in action.
The thermal properties of the natural terracotta clay and my lamp design heat up once lit, and within 1 minute goes to
Gasifying
Any Oil and burning the gas it generates on demand for hours. Olive Oil, Coconut Oil, Canola Oil, Any Oil, Bacon Grease (*depicted) etc..
The Clay Gas Lamp has become very popular for its impressive Tall and Stable gas flame which appears almost magical compared to today's "modern lamps" and candle flames.
My lamps are entirely hand crafted, made from natural red terracotta harvested from the ground, take 4 weeks to dry before I bisc fire them in an earth kiln.
The lamps burn bright, hot, and clean once warmed up, and make an excellent survival light / stove burner during emergencies.
Use caution when using lamp in ventilated areas and away from gusty drafts. Never leave lamp unattended.
Buy the PDF Plans And Make Your Own Now! Only $4.99!
Get Back to the Basics with Dave's Authentic, Quality Hand Crafted Clay Gas Lamps
Thanks for checking out my lamps.