Welcome to Dave's Gnomes Page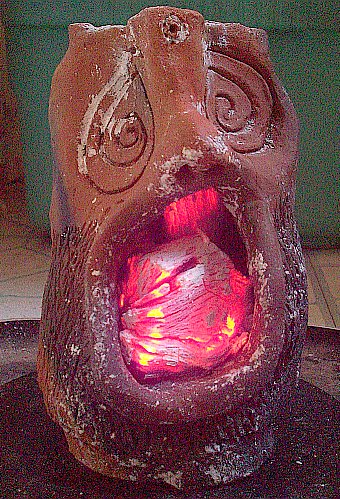 My Gnome Burners
Order Yours Here
These guys... Are from a series I call
"The Awakened Man."
They make very special incense burners, double as small room heaters,
triples as interesting conversational piece.
We burn sage in ours.
Each piece is uniquely marked.
When placing an order, please understand hand crafted works like this takes over 18 weeks from beginning to end taking clay from the ground, cleaning and wedging the clay
by hand the way I do
, to then forming the cleaned clay into this head, taking 4 weeks to dry before accumulating a load worthy of a firing. Glazing involves another firing.
Get Back to the Basics with Dave's Authentic, Quality Hand Crafted Clay Art
Ancient Artifact Replica Requests Accepted